Go-to-market and customer success? What do they have in common?
As we saw in the article, "What do product management, pricing, positioning and go-to-market (GTM) have in common?" I like to link customer success with go-to-market strategies. Why? As the whole organisation is focused on the success of its customers, it helps to deliver a go-to-market strategy that attracts the right customers and creates a good customer experience.
First, what is a Go-to-market strategy?
A GTM is a tactical plan that:
1° Aims to deliver unique value to customers to capitalise on the competitive advantage created by their product for their target audience;
2° Outlines the steps necessary to succeed. How will your customers hear about your product? How can they get hold of it?? The answers to these two questions lead to the steps you lay out towards the 'outside' of your organisation, i.e. customers, resellers, distributors, partners, etc… But to make these happen, there are also steps towards the 'inside' of your organisation that need to be taken. These internal steps create alignment so that every department understands the value the product creates, its own contribution to that value, and how and when it needs to act to deliver their part of that value.
The three components of a successful Go-to-market plan
– What are you selling? = What is the solution your customer is looking at in order to be successful at solving a problem or attaining an objective?
– To whom are you selling? = Who is the person facing this problem, who is conscious that this is a problem, and is willing to pay for it?
– How are you selling? = How will the customer hear about your solution and get it into their hands?
The first two points are covered by your positioning. (Please refer to my previous article on Positioning and Customer Success.)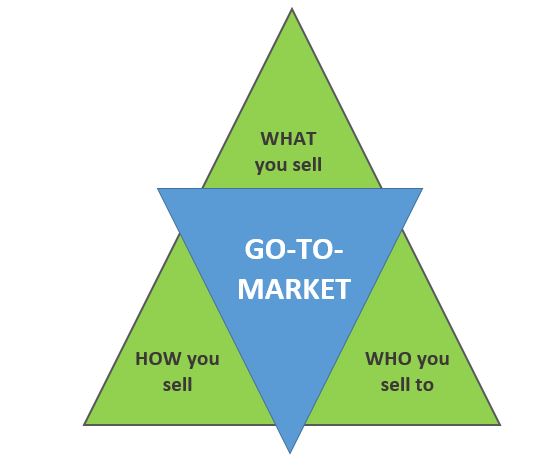 How will your product reach your target customers?
– Whether physical or digital, your customers need to be able to access and use your product.
– Channels can be physical distribution channels such as in retail; they can be direct or indirect (sell to, sell with, sell through); or you can work with partnerships.
The two sides of a Go-to-market: the external steps
– Your product may come to the market in different steps or at different maturity levels (ex: MVP, version 1, version 2, or have a mid-life upgrade).
– How can your customer get hold of your product? You may want to choose one or several channels to get your products into the hands of your customers.
A key element of your GTM plan is that is has to support the product's objectives (#units sold, time frame, price targets, etc…), working backwards from the objectives to define the means to achieve them. For example, selling 100 units or 1000 units of your new product will require a much bigger sales effort involving, for instance, more regional offices or different channel partners.
For each channel and version of your product, you need to set KPIs.
– How will they hear about your product? Different target segments may use different channels to stay informed, or follow different people on social media, or attend different events.
Based on your positioning analysis, you will know what to say and how to say it to your different audiences.
The two sides of a Go-to-market: the internal steps
– This is about making sure all departments understand the product positioning as well as how to create value for your target customers. They need to understand that if they do not do what they are supposed to do, value is not delivered as expected and customer experience suffers.
Partners can be an important part of a channel strategy. They need to be fully involved to deliver what we expect of them to achieve the right level of customer success. This is about making sure all departments and partners that need to contribute are aware of it and know what to do at what time. Often, I find that involved departments (and external partners) are briefed at a later stage and struggle to access all the information necessary to perform their jobs properly. I always pledge to involve them early on, share information for them to learn, and give them the chance to experiment with the product so they can build expertise with it.
For all parties involved, here again the KPIs are important as they point to the amount of effort expected from each department and/or partner.

A one-way or two-way Go-to-market plan?
I don't believe in plans that are created by one individual and that other people have to follow blindly.
Usually, people working in these departments/partners are competent and know their job.
With this in mind, a much way better way to proceed is for the GTM Manager to lay out a high-level plan focusing on the objectives and identifying who will play a role. Then, it's time to discuss with each department/partner involved on how to deliver that plan, including their own timing and their KPIs. So yes, creating a GTM plan is a two-way process. Working this way creates more buy-in/engagement, which leads to better results and more chances of the original timing being respected.
A Go-to-market involves project management
As you will have guessed by now, a GTM plan also involves project management activities, like coordinating all those departments, and making sure everybody knows what to do and when.
A successful internal GTM coordination ultimately creates a superior customer experience since everything the customer needs is ready when they need it. And project management is what drives all these people towards this goal. All the steps from information to pre-sales, sales, purchase, customer support flow easily, creating a positively memorable experience.
An agile go-to-market strategy?
Although the GTM provides a framework for the organisation to deliver, it is not fixed in stone. It is created to support the objectives which are followed thanks to the KPIs. So if the route of progress towards the objective diverges from the plan, the activities included in the initial GTM plan also need to adjust. The objective is what matters — the way to reach that objective is flexible.
Go-to-market and customer success
Now that's all clear, but how does this all link back to customer success?
In the widely accepted sense, customer success is about customers having a successful on-boarding and usage of the product to drive loyalty. Personally, I see customer success as starting much earlier than that. Simply hearing about a new solution helps the customer move away from a sub-optimal situation to a better one; finding easily detailed information (channel communication) to enable the customer to judge if this is the right product for them (marketing, pre-sales and sales); paying easily and receiving the product (actual distribution channels); and starting to use the product quickly (on-boarding, training) are all part of customer success. And in case your customer encounters any issues, finding the solution easily (customer support or after-sales support) is also vital to their satisfaction.

Have you ever used customer success to define your go-to-market strategy? Do you have experience with a good or bad GTM plan? And what have you learned from these?

---
Elithan Consultancy is a consultancy and interim management company that helps B2B technology
companies create, capture, position and launch customer value. Elithan Consultancy helps you make
informed and better decisions that lead to lower business risk and more positive outcomes.